On the twenty-third of September we celebrate the Conception of the Honorable Prophet, Forerunner and Baptist John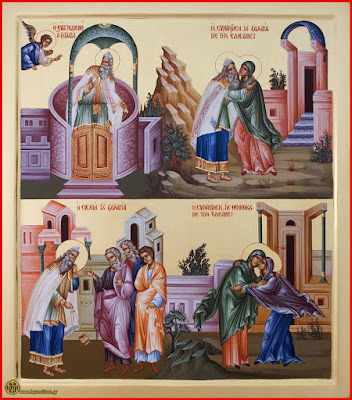 Verses
The man received a prophetic oracle from the Archangel,
You will beget a Prophet, and even greater than the prophets.
On the twenty-third the Forerunner appeared and received the womb.
When our Lord and God, the Only-begotten Son and Word of the Father, deigned to descend from the heavens, and was conceived without seed and in a strange manner in the virginal womb of His all-immaculate Mother, He wanted to verify beforehand the seedless conception of the Virgin with another strange miracle. He did this six months prior to His own conception, when He sent a message through the Archangel Gabriel to the prophet and high priest Zechariah, who was censing in the Temple and praying for the people, proclaiming by him the strange conception of His own Forerunner. He determined for this to take place in the womb of his barren and elderly wife Elizabeth, whose conception we celebrate today. Meanwhile Zechariah, because he did not believe in this hope-filled message of the Archangel Gabriel, was condemned to voicelessness and silence, until the day he saw the fulfillment of the message of the Archangel
Apolytikion in the Fourth Tone
Sing, O barren one who could not bear, for thou hast conceived the lamp of the Sun Who is to enlighten the whole world suffering blindness. O Zechariah rejoice and shout: "The prophet of the Most High is to be born."
Kontakion in the First Tone
Great Zechariah radiantly rejoices together with Elizabeth: she worthily conceived John the Forerunner whom the Angel announced with great gladness and whom we honor as an initiate of grace.
Oikos
Let us open the sacred Gospel, which holy and wondrous Luke wrote for us, and let us contemplate the radiant and notable conception of the Forerunner. For, he says, when the Elder and righteous Zechariah entered the Holy of Holies to offer incense at the moment of the daily service, Gabriel appeared to him brining good tidings and saying: You have a son, Hierarch, in your old age, the Prophet and Forerunner, voice and herald, ever-lighted lamp and initiate of grace.