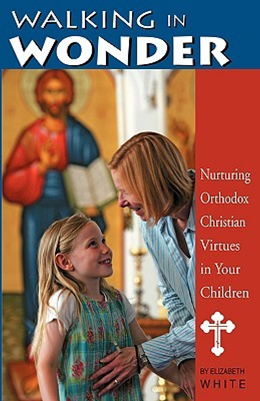 Nurturing Orthodox Christian Virtues in Your Children
This slim book belies its enormous potential to parents of young children.  Elizabeth White draws on her own experiences of motherhood, her errors and joys of introducing a child to God's wonderful world.
Through staged chapters the reader is drawn into a new awareness of seeing everyday surroundings when sharing the looking and the seeing, the listening and the silence in the presence of a child.  The key is time.  Time spent in the ordinary and seeing it become extraordinary as the child processes, stores in the mind and begins the foundation stone of remembering what God has created.
This being an American publication means it has a direct approach, easy to understand and with a strong sense of belief.  The author, mother of three, Montessori teacher and Sunday School teacher draws on her faith and professional experience to bind this book together in eight concise chapters.  Each chapter aim is outlined, Bible verses and sayings of the Saints are quoted to anchor the ideas in Scripture.
My regret is not having this book when my own children were young.  It is written in such a beguiling style that I want to read and re-read it.  Thankfully my daughter is already using it with her young son and much appreciates its wisdom.
For sale in the bookstall!
Philippa Humphrey