23 February is the feast day of Saint Milburga. We will celebrate the feast this year with a vigil on the evening of the 22 February. Vespers will start at around 8pm. Matins will follow at around 9pm and the Divine Liturgy will start at around 10.30pm.
The following day we will have a pilgrimage to Much Wenlock starting in Ironbridge and finishing at the ruins of Wenlock Priory where we will have a paraklesis to the Saint.
Meeting up for Pilgrimage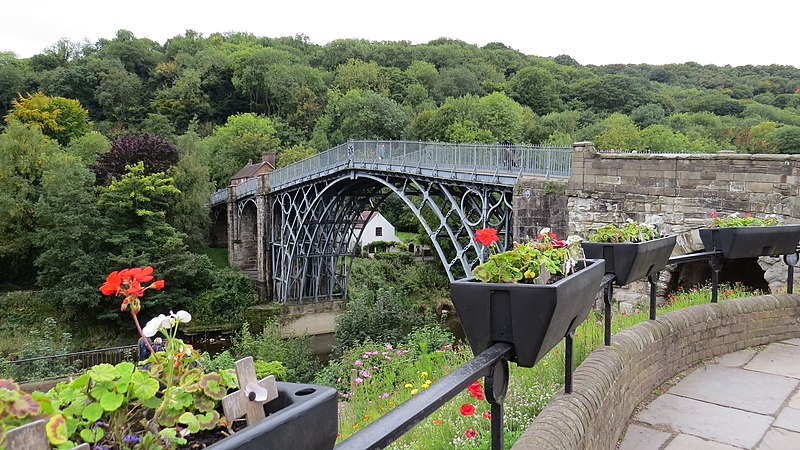 We will meet on the Iron Bridge on Thursday 23rd February at 10:00AM. There should be ample parking available in the Ironbridge Car Park. To reach the car park by car, you will need to cross the Lloyd's Head Free Bridge at Waterloo St., next to the Ye Olde Robin Hood Inn. Cross the bridge and follow the road to the right. You will shortly come to a very sharp left-hand bend which leads up a steep incline towards Broseley. Rather than following the road to the left, turn right onto Ladywood. You will shortly thereafter see the Ironbridge Car Park on your right.

If you arrive early enough, you will have time to take in the view from the Iron Bridge and perhaps enjoy a cup of tea at one of the cosy cafes dotted along the High Street. We will plan to set off from Ironbridge at around 10:30. and will be largely following a route known as The Two Towns Circular Walk – we will only be completing one half of the circuit (Route B).
We will take one of two possible routes to complete the first stage of the walk, which will take us to Benthall Hall. The quickest route is largely comprised of a series of wooden staircases; however, the incline is very steep and can be quite strenuous, even for those who are relatively young and fit. The second route involves walking a little further along the edge of the river before turning to ascend the southern bank of the Gorge. While the path ascending the Gorge at this stage can be moderately steep in parts, it is less so than the aforementioned route. Both routes offer striking views across the Gorge from the edge of the embankment. We will make a decision as to the best route to take on the day, based on who is in the party and on the prevailing weather conditions. In either case, we will take regular breaks on the way up so that everyone has a chance to catch their breath and drink some water if need be.
Once we've taken a few moments to take in the view overlooking the Gorge, we will head on to Benthall Hall. We should have ample time to spare to allow anyone who wishes to, to walk the grounds. There is also a small private chapel which is open to the public at certain times.
💡The ascent up the southern bank of the Gorge can be strenuous, especially if one doesn't take one's time. Once it is out of the way, however, the walk to Wenlock Priory becomes very easy-going and has no significant inclines to speak off. If you would like to come on the walk, but you're concerned that you might find the ascent too taxing, then I recommend that, rather than abandon any hope of participating, you meet the rest of the party at Benthall Hall, where public parking is available. Parking is free for members of English Heritage, or £2 for non members (for the entire day).
We have scheduled four hours for the walk to allow for a leisurely pace, provide opportunities to rest, and take in some of the sights on the way. We may well arrive earlier, but we should expect to be in Much Wenlock by no later than 14:30.
What to bring with you
It isn't possible to predict what the precise weather conditions will be on the 23rd February, but one should anticipate temperatures in the range of 8-10 degC and the possibility of rain showers. If you intend to complete the entire route, including the walk up the southern bank of the Gorge, then I highly recommend that you take layers of clothing that can easily be added or removed. You should also take a lightweight waterproof coat (waterproof trousers too, if you have them). If you lack a waterproof coat, please let me know – I or someone else may have something suitable that you can borrow. In terms of footwear, sturdy walking shoes or boots are of course ideal, but any robust footwear should suffice, as the walk doesn't take us over any particularly challenging terrain. I prefer to wear trail-running footwear when rambling and save walking boots for rocky or unstable terrain. You should be fine even with a good pair of running shoes, so long as they have an outsole with a good firm grip.
Take at least a litre of water with you and, unless you would prefer to purchase something to eat in Much Wenlock when we arrive, a packed lunch that can sustain you throughout the day.
Entry to Wenlock Priory
Wenlock Priory is maintained by English Heritage and hence there is a charge for entry if you are not a member. Standard adult, concession and family tickets are available. Admission prices can be found by following this link. There is no need to book in advance. You are under no obligation to visit the Priory itself, so if you would prefer to take in the sights of the village itself, then please feel free to do so. We will congregate together at the well before we depart from Much Wenlock.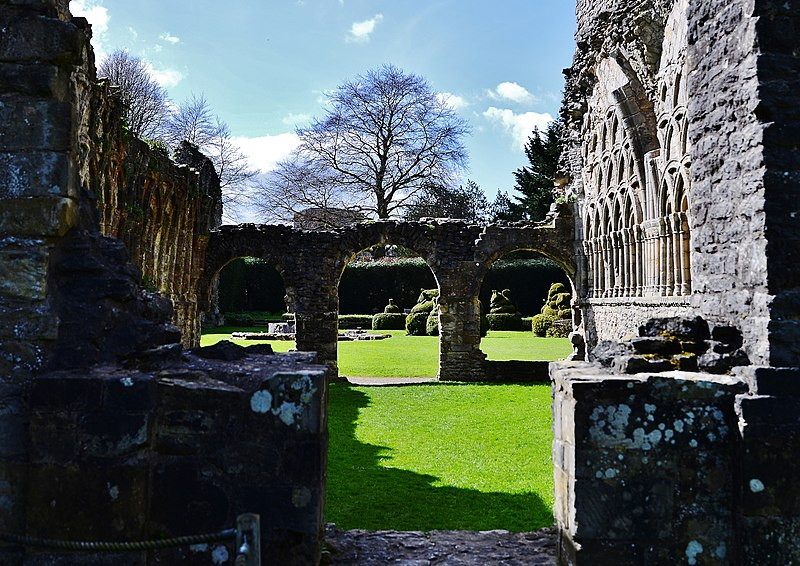 St. Milburga's Holy Well
The holy well has been a place of pilgrimage for over 1,000 years. It is said that the water from the well has healing properties, particularly for ailments affecting the eyes, and even today visitors come to the site to pay their respects and seek its blessings. It is also the site where St. Milburga is said to have planted a hawthorn tree, which miraculously still blooms today.
St. Milburga's Well is publicly accessible, so there are no barriers to entry. For the most part, very little well water comes to the surface, though there have been occasions when I have found a substantial amount of water in the chamber. Perhaps if we the faithful pray fervently enough, St. Milburga's Well will once again flow abundantly so that the refreshing waters of Orthodoxy might provide their restorative power to all who live in Shropshire.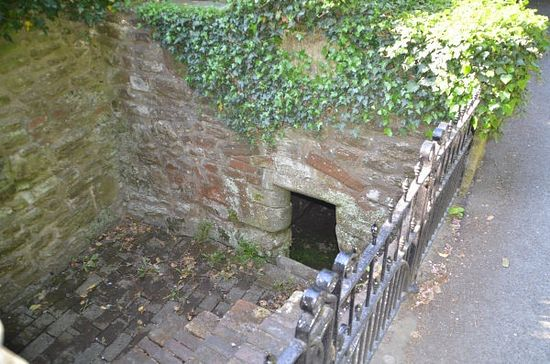 Getting back
We will arrange to ferry people back to their cars in Ironbridge once the days activities have been completed, but we would very much appreciate if you could let us know if you will be participating in the walk as soon as you can, so that we can ensure that there are sufficient cars to avoid multiple return trips. We very much hope you will be able to join us as we commemorate our beloved patroness, Abbess Milburga, and ask for her intercessions.
A short life of St. Milburga
St. Milburga, also known as Milburgh, means "gentle protection." She lived in the mid-7th century and died in 715 (or 722 according to another account). Her parents were the saintly Kentish princess Ermenburgh (also known as Domneva) and Mercian ruler Merewald, who was a son of the pagan king Penda of Mercia. Merewald ruled the western sub-kingdom of Magonsaete, which roughly corresponds to present-day Herefordshire and Shropshire. Under the influence of his wife Ermenburgh, Merewald converted to Orthodoxy and became a pious king, founding monasteries including Leominster in Herefordshire and Much Wenlock in Shropshire, where St. Milburga later became its patroness.
Little information about St. Milburga's life has been preserved, but the most well-known account was written by Monk Goscelin in the late 11th century. According to Goscelin's account, St. Milburga was tonsured by Archbishop Theodore of Canterbury at a young age. She lived in Magonsaete, cared for the poor and sick, and converted many to Christ, rejecting worldly wealth. A wealthy man sought to marry her, but she had vowed to remain a virgin for God. When the man pursued her with armed force, she crossed a river that suddenly became impassable such that her pursuers were stopped in their tracks.
St. Milburga's father established the Much Wenlock (originally called Wimnicas or Wininicas) monastery in around 670 and placed it under the leadership of St. Botolph of Iken, a prominent English missionary and abbot of the time. Botolph became St. Milburga's spiritual father.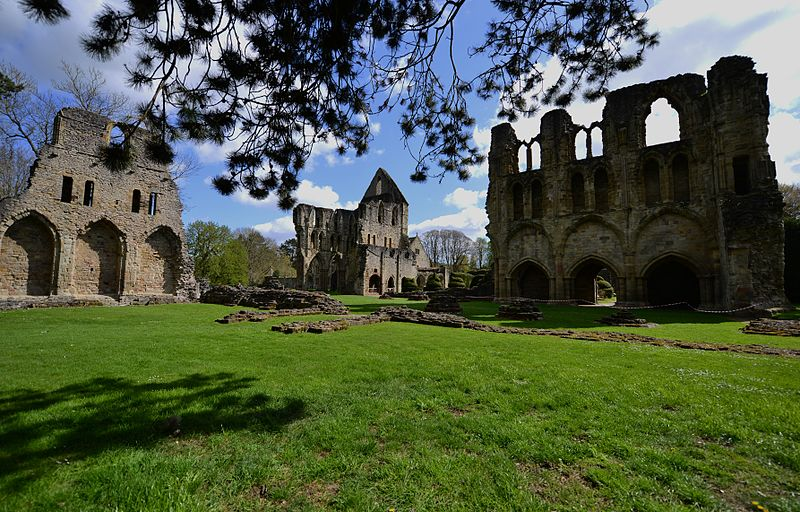 Unlike her sisters Mildred and Mildgyth, who became abbesses in Kent and Northumbria, St. Milburga never left her home kingdom of Shropshire and remained here until her death. For the past 1,300 years, she has been closely linked to the county and its people, serving as their chief patroness. Records show that during St. Milburga's time as abbess, life in Wenlock was prosperous and harmonious, with everyone admiring her for her gentleness, humility, kindness, and holy lifestyle. The saint herself worked in the monastery's fields and gardens and grew various fruits and beautiful flowers.
Despite the strict discipline in the monastery, St. Milburga was always welcoming and received many guests, including widows, the sick, and those in need. She loved country life and frequently visited local villages, offering aid and comfort to their inhabitants. She healed the sick through prayer and her knowledge of herbs. It's said that she played a role in spreading the gospel and organizing pastoral work in pagan parts of Shropshire, possibly sending priests from her own monastery.
Following her repose in the Lord, multitudes of pilgrims began to flock to the shrine containing St. Milburga's relics to seek her intercession. The original Wenlock Abbey was likely destroyed by the Danes in around 874, and the tomb with her relics was temporarily lost. Earl Leofric of Mercia and his wife, Lady Godiva, established a house of secular priests on the site of St. Milburga's monastery in around 1040, but it only existed until the Norman Conquest. Cluniac monks from La Charite sur Loire in France reopened Much Wenlock Monastery as a Roman Catholic priory in 1079 at the request of Roger de Montgomery, Earl of Shrewsbury. The location of the saint's grave was unknown, but a miracle soon occurred. Following the advice of Archbishop Anselm of Canterbury, the monks began digging in an old, unused church and one day, local boys playing nearby fell into a tomb. The site was examined and the intact, sweet-smelling relics of St. Milburga, along with remains of her coffin and a church altar, were found. The fragrance that filled the air was described as resembling all the flowers the saint used to tend in her garden.
Wenlock Priory was dissolved by Henry VIII in the early 1540s. The massive church of the priory was partially destroyed, while the monastic buildings were either razed or converted into private homes (such as the infirmary and prior's residence). The relics of St. Milburga were likely destroyed by the iconoclasts. Today, a significant part of the church still stands, attracting many visitors. The priory's gardens feature impressive topiary shaped like animals, and the holy presence of St. Milburga can still be felt there by the faithful. The Holy Well associated with St. Milburga can be found nearby.
A full history of the Saint can be found here:
Yours in Christ, Luke.