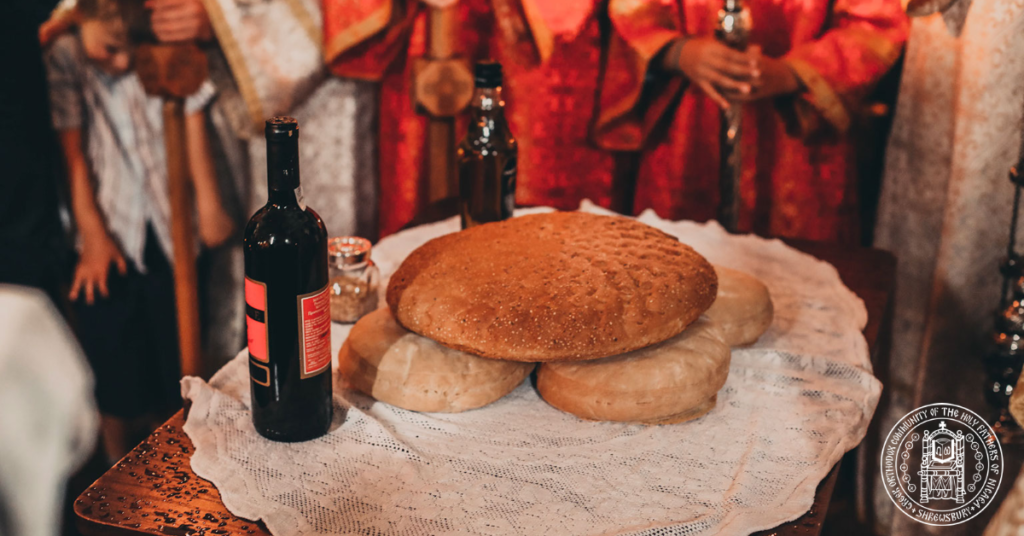 The time has arrived for our annual membership renewals. This year, the Community Board decided to extend the community membership to those who offer their time and talent as an offering as well as those who offer money.
Below is a helpful article that first appeared on the Orthodox Christian Network that explains the distinction between offerings of time and talent. The article is written from the perspective of the Orthodox Church in America but much of the details are equally applicable to the Orthodox Church in the United Kingdom.
You can renew your membership using this form: https://shrewsburyorthodox.churchsuite.com/forms/z6idfn4u
Therefore be imitators of God, as beloved children. And walk in love, as Christ loved us and gave Himself up for us, a fragrant offering and sacrifice to God. Ephesians 5: 1-2
Let's look at a brief history of giving in the Orthodox Church in the United States. Most Orthodox Churches have their roots in Eastern European countries where the Church is the state religion. People pay for the church through taxes. Priests are public servants, and are paid by the government. When the Orthodox Church arrived in America, the people were faced with a situation that had not faced previously, that the government didn't financially support the church and the onus for that fell on the people.
In order to pay for the needs of a church, the churches began charging dues to members and doing endless fundraisers to supplement the dues—festivals, dinner dances, bake sales, golf tournaments, bingo, and more. In the 1970s, people started to realize that the "dues" system was not fair—some could hardly afford a few hundred dollars for dues and others could contribute far more but weren't called upon to do so.
The system of stewardship was born under the mantra of "fair share." I remember as a child people were taught to give their "fair share." Ultimately this mantra was replaced with the three word buzz phrase "Time, talent and treasure."
Sadly, parents have passed down to their children the dues mentality, that we cut a check once a year to the church and that's that. Even more incredibly, there are still some people who believe that the state supports the church and who don't believe in paying anything to support the church.
We'll come back to the financial aspect of stewardship another day. Today we will discuss briefly the time and talent portion of stewardship.
Most people equate time and talent as the same thing. For instance, I will offer the church my time and talent by serving on the parish council or singing in the choir. It is only recently that I learned that the two are actually separate. When we offer our talent to the church, as a choir member, or Sunday school teacher, or finance committee member, etc., there certainly is an element of time connected to our offering of talent.
But the offering of time should actually be the time we commit to growing in our faith. Worship is a stewardship of time. So is personal prayer and study of Scripture. So is going to Bible study or a parish retreat. In fact, the most important "stewardship" that there is is the stewardship of time. The first thing we want to consider when deciding what to give back to God, is our time. Time is, in fact, our most valuable commodity. What good does it do for us to offer money if we are not willing to offer time? After all, we cannot purchase our way to heaven. Giving more money does not offset the need to pray, worship and read Scripture. So our stewardship offering should be a generous portion of time given back to God. Remember, He blesses us each day with time. He blesses each day we get up with a new day of time. How much time do we give back to Him? How much time do we spend with Him?
Each of us also has been blessed with at least one (and probably more) talents. How can your talent be used to advance the Gospel? How can your talent be used to help the church function? There are obvious answers like singing in the choir or teaching Sunday school or serving on the parish council. How about helping with repairs? The more money a church spends on repairs, the less there is to help charitable causes. If you offer your talent as an architect or electrician or plumber or contractor, you are actually helping to advance the Gospel, because you free the church from the effort spending on keeping the home base working properly and you enable the church to go out and "make disciples," rather than staying home and patching holes. Think carefully about what your talents are and how they can be used to help the church, which in turn spreads the Gospel.
Be gracious to me, O God, for men trample upon me; all day long foemen oppress me; my enemies trample upon me all day long, for many fight against me proudly. When I am afraid, I put my trust in Thee. In God, whose word I praise, in God I rust without a fear. What can flesh do to me? All day long they seek to injure my cause; all their thoughts are against me for evil. They band themselves together, they lurk, they watch my steps. As they have waited for my life, so recompense them for their crime; in wrath cast down the peoples, O God! Thou hast kept count of my tossings; put Thou my tears in Thy bottle! Are they not in Thy book? Then my enemies will be turned back in the day when I call. This I know, that God is for me. In God, whose word I praise, in the Lord whose word I praise, in God I trust without a fear. What can man do to me? My vows to Thee I must perform, O God; I will render thank offerings to Thee. For Thou hast delivered my soul from death, yea, my feet from falling, that I may walk before God in the light of life. Psalm 56
Remember that time and talent are two separate offerings. Time is what we offer Christ for our personal, spiritual growth. Talent is what we offer the church and the world to help in spreading the Gospel.
Source: https://myocn.net/generosity-time-and-talent-are-two-different-things/
You can renew your membership using this form: https://shrewsburyorthodox.churchsuite.com/forms/z6idfn4u